Chinese TPMS chip market grow opportunities analysis
TPMS policy: mandatory installation of TPMS in vehicles in production
TPMS policy released in 2017. According to the TPMS policy all new certified cars will be installed with TPMS on market from Jan 1st of 2019, and all cars in production will be installed with TPMS from Jan 1st of 2020. In China, almost all of intermediate cars and were installed with TPMS while very low TPMS installation in small cars. Therefore, there will be huge increase of TPMS installation in small or mini sized cars in the future. It is expected that it would be 40% or so installation for TPMS in mini sized cars in factory installed products, and almost 100% installation in 2020.
TPMS components: high percentage of chips in cost structure
TPMS chip accounts to half of percentage in material cost structure. TPMS materials include battery, sensors, valve, MCU, radio modules, antenna, etc. Normally for cost, 46% for TPMS chip, 13% for battery, 20% for tire valve, labor cost and other materials for 20%.
TPMS: Chinese TPMS chips are growing much
Some Chinese TPMS chips are already in production. NXP, Infineon, ST, Renesas are the major players in auto electronics industry. Auto become more and more electrized and intelligent, chips and software are getting higher in proportion of auto manufacturing cost. Chinese auto chips manufacturers are breaking foreign monopoly gradually, trying to nationalize each auto chips. Some chips manufacturers are starting the mass production of their own TPMS chips.
TPMS is the important auto safety product
TPMS is the abbreviation of tire pressure monitoring system, a tire pressure abnormal alert device. It has direct and indirect types.
Indirect type: wheel speed based TPMS, which monitors tire pressure by checking the wheels speed difference through the wheel speed sensors of auto ABS. direct type: pressure sensor based TPMS, which monitors tire pressure by the TPMS sensors installed on tire valve or inside the tire and transmits the data out via RF433.92MHz.
Direct TPMS is prevailing technology in the world currently. Indirect TPMS was adopted in the earliest due to its lower cost. But it is less stable and can only monitor during driving. While the industry standard has been getting more strict, direct TPMS replaces indirect TPMS gradually, and became the prevailing TPMS technology finally. Therefore, direct TPMS has more advantages than indirect TPMS in product performance, product cost and industry standard and Traffic regulations.
Direct TPMS structure:
The whole system consists of transmitter and receiver. TPMS sensors are installed on tires and receiver is installed on dashboard. There are three parts according to the functions:
● monitoring module: MEMS pressure sensor, temperature sensor, acceleration sensor. These sensors monitor tires and transmit data to MCU after the circuit conversion of analog and digital data.
● Data processing module: the MCU with low frequency and radio frequency functions, RF transmitting part. MCU processes the data from modulation module and transmits it to receiver via RF module.
● Receiver module: antenna, MCU and display, etc. the receiver receives the data and notify the drivers or managers.
TPMS working principle

How TPMS works
TPMS can improve the vehicle safety and comfort, fuel economy. Abnormal tire pressure affects the vehicle braking, tire blowout or even the traffic accidents. And it also reduces the tire life, and increase the suspension wear and fuel consumption. The TPMS can notify the driver to keep the tire pressure in good status. It strengthens the vehicles safety, lower down the maintenance expenses, increase the fuel economy.
Hazard of abnormal tire pressure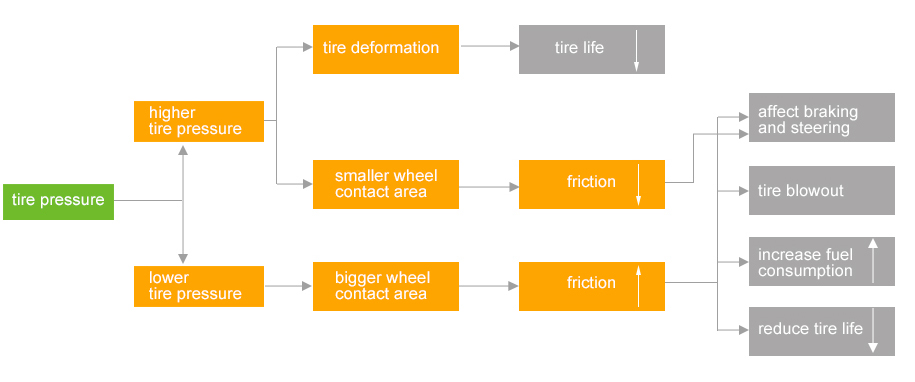 TPMS is an auto safety system and sensing terminal for intelligent driving
For traditional auto, TPMS is the third legal safety product after the ABS and air-bag. It's the niche market for auto electronics. Auto electronics can be divided into two categories: electric control system, more like tools for automobile, which is used for intelligent driving and autopilot, including engine, chassis system(transmission system, driving system, steering system, brake system) and other auto parts; auto electronics system: more like consumer product, is used for driving comfort. TPMS assists the driving and improve the driving comfort as the combination of auto tool and consumer product. According to the installation, TPMS can be classified into the driving system of chassis system.
Intelligence, connectivity, electrification and sharing are the future trends for automobiles. Massive sensors, data and sensing terminals are the based of intelligent and connectivity. Electrification would lead to a safer electric system. TPMS is not an independent system, but a sensing terminal for intelligence and connectivity. The sensors on auto tires are in two systems: speed sensor in ABS, pressure sensor and temperature sensor in TPMS. Tire would integrate deeper into the intelligence and connectivity as the core component of driving system. TPMS will play more roles as sensor on tire.
TPMS industry chain: upstream industry chain has chance of chips localization
The structure of TPMS industry chain: the chips suppliers of upstream industry chain have the pricing power
TPMS industry chain is divided into three main links: upstream participants are the suppliers of all kind of materials. Midstream participants are the integrators and components suppliers, downstream participants communicate with end users on OEM or AM markets.
Upstream:
The participants have pricing power due to the technology monopoly. TPMS materials include batteries, each sensor, MCU, radio module, antenna, etc. these TPMS materials are integrated as TPMS chip and battery, and sold to TPMS integrators. TPMS chip accounts for 46% or so in product cost. For TPMS chips, there are many suppliers which can offer single components like sensors, MCU, but only a few which can offer turn-key solution: Infineon, Freescale, GE etc.
Midstream:
Not high technical threshold but market barriers exist
1. No high technical threshold: midstream participants are the integrators essentially, which source chips solutions and batteries from upstream companies and make products and get into the components supply system of automakers.
2. Barriers to entry exist for OEM supply system. It requires at least 1- 2 years cooperative development and form relatively stable relationship before new car models come into market. The competitive landscape is relatively stable through the long-time competition on overseas market. Localization is taking place gradually.
3. margins squeezed: upstream suppliers have pricing power, downstream automakers have strong bargain power. Therefore, the midstream integrators' margins are squeezed much.
Downstream:
automakers have strong bargain power. Clients on Pre-installed market are automakers. They will lower down the prices if it occurs recessions. The aftermarket demands come from the maintenance and automobile modifications from end-users.
TPMS chips competitive landscape:
domestic TPMS chips are expected to break the monopoly of foreign companies
Infineon and Freescale and others share the global market. Only a few chips companies are able to offer turn-key solution for TPMS chips: Infineon, Freescale, GE and Melexis: the main integrators include Schrader, Pacific Industrial, ZT-TRW, which source chips from Infineon, Freescale and GE. Domestic TPMS chips is better in some product parameters.
main cooperations of TPMS mid-stream and downstream globally on OEM market
country
company
Schrader
Pacific Industrial
ZF-TRW
Continental
Germany
Volkswagen AG
•
•
TPMS driving force: policy and technology and consumption upgrade driven Auto industry is devoted to cost reduction and efficiency increase, energy saving, environmental protection and safety. Safe and comfort driving experience needs drive the auto consumption upgrade. TPMS can be of help on energy saving and efficiency increase and better driving comfort. Government sector offers policy encourage, Three underlying driving forces: technologies breakthrough by Automakers and TPMS suppliers, consumption upgrade by end users, and government policy stimuli.
Auto safety and environmental protection are the starting point of government TPMS policy
● Reduce traffic accidents. Many traffic accidents in high way are involved with vehicles tires. The tire pressure is the main reason of tire faults.
● Energy saving, environmental protection, increase of fuel economy. A series of policies in recent years include encouraging new energy automotive industry, putting forward the credits policy to punish automakers which produce high fuel consumed vehicles, implementing China 6 gaseous and fine particulate emissions limits, all of these are involved in energy saving and environmental protection. Environmental protection and energy security are upgraded to the level of national strategies, and global automakers are spending huge amount of money on conversion to new energy vehicles.
Stricter Domestic policies comparing to overseas'
Overseas TPMS market is mature while US has already implemented the TPMS policies in 2004. Domestic TPMS policies don't involve the commercial vehicles. There is possibility of the commercial vehicles would be forced to install the TPMS in the future.
Technology and needs driven progressively
TPMS integration trends lead to the higher prices. TPMS development history: from indirect TPMS to direct TPMS, from single pressure function in chip to multiple functions of chip including pressure, temperature, voltage acceleration. In general, the TPMS chip will be more reliable and more functions.
TPMS trends

TPMS needs:
end users consumption upgrade will stimulate the aftermarket. TPMS was installed in the luxury vehicles at first in 1990s, and in high and middle end cars gradually. The overseas TPMS policies implementation accelerates the popularity of TPMS on OEM market. Even without the help of TPMS policies, TPMS still can increase the auto safety and fuel economy, reduce the vehicles' maintenance. It still can win more shares on OEM market.
Quantity:
quantity may be increased on pre-installed market before 2020, and go to peak on after-market after 2025 expectedly.
OEM market:
TPMS installation amount is expected to go up in 2020. Automotive market is low in 2018, 2019. The TPMS policy that Government requires the mandatory installation in new registered cars models of 2019 has less influence on increase of installation amount of 2019 considering lower market and less new car models. And all in-production cars are mandatorily installed with TPMS in 2020 according to the TPMS policies. Therefore, the increase in TPMS installation would occur possibly in 2020.
Aftermarket:
the TPMS installation quantity is keeping up, reach peak expectedly in 2025. Current TPMS technology still doesn't support wireless and without battery. Each TPMS sensor needs the battery inside. Battery life determines the replacement cycle of TPMS. TPMS internal batteries can last 5 years or so. Therefore, new TPMS chips would be demanded much again due to replacement cycle after 5 years or so.
Price:
lower when approach market at early stage, and higher in the future with higher integration trends Factors: 1. TPMS chips localization: currently overseas TPMS chips companies are in monopolistic position while new comers will lower down chips prices. 2. Higher integration trends will put unit prices higher, and increase profits.
Domestic TPMS chips factories need to make price compromise when they approach TPMS market. According to prospectus from a Chinese listed company, the TPMS chip import price was CNY18.3 in 2014, CNY16.2 in 2015, CNY15.6 in 2016. The price would go down while the purchase quantity go up. The companies which have large shipments are capable to get lower prices. In reference to the prices from the Chinese listed company, we think the expected domestic TPMS chip price to cut into market would be CNY10/pc comparing to overseas TPMS chips in stronger production capacity and better customer awareness.
Market size: it is expected to reach CNY 1.78 billion
We take passenger vehicles as the new vehicles' sales of M1 category on pre-installed market in current year, and private motor vehicles tenure as aftermarket sales. We estimate the TPMS chips shipment volume on 5 tires(1 spare tire) a vehicle.
Pre-installed market:
pre-installed TPMS chips volume is much related to the passenger vehicles' shipment volume. We expect that domestic passenger vehicles sales will drop 10% in 2019, and keep stable in 2020. The price would go up on annual year reduction and integration trends. We assume the price keeps same in 3 years, and the market size in 2020 would be CNY1.07 billion or so, the growth would reach peak in 2020.
Aftermarket:
according to the industry research, TPMS installation is about 20% in 2018 based on the passengers vehicles tenure . end users' awareness of TPMS and safety would promote the TPMS installation along with the mandatory installation of TPMS on vehicles on pre-installed market. We assume the TPMS installation is 25% in 2019, 30% in 2020 and 40% in 2021. The price would be kept same at CNY10/pc on both pre-installed market and aftermarket.
Generally, the market size would be about CNY1.78billion in 2020 with a rise of 78% comparing to 2019. And market size is about CNY2.38billion in 2021 with growth of 34%. TPMS replacement installation would go higher in 2025 due to the cycle replacement of 5-6 years TPMS use life.